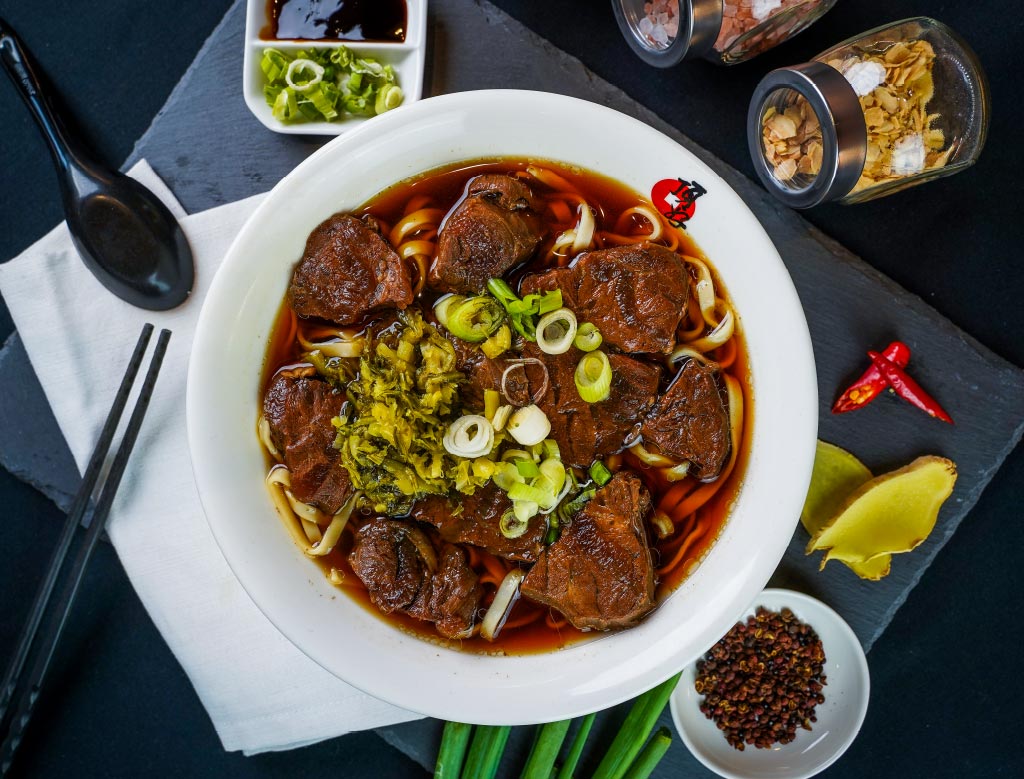 BEEF NOODLE SOUP
Signature Braised Beef Noodle Soup
(S)15.75    (L)18.00
Our signature braised beef soup is a classic. Enjoy the essence of this light, naturally flavoured soup of beef bone, beef tendon, vegetables and spices. NO MSG or artificial soup concentrate. Served with savoury and aromatic stewed beef shank cut in thick slices, fresh flour noodles and Taiwanese pickled mustard and green onions.  Every bowl of beef noodle soup is a delicious blend of nutritious ingredients producing a mouth-watering delicacy. This is a good choice for guests who prefer light flavours, and also great for our young gourmets.    
Sichuan Spicy Beef Noodle Soup
(S)15.75    (L)18.00
This fragrant Sichuan-flavoured beef soup is mild to medium spicy. Served with refreshing Taiwanese pickled mustard and green onion. A special bean paste and chili are added to enhance the flavour. It retains its sweetness, but adds rich layers of flavour, taking the soup to a higher level. Recommended for spice lovers. 
Extra Spicy Beef Noodle Soup
(S)15.75    (L)18.00
Extra spicy sauce recipe of the "Chinese Cuisine Iron Chef", Mr. Kenichi Chen. This chilli is made from more than a dozen spices and a special sauce.  Rich in aroma for great satisfaction. Recommended for your spicy soup challenge.
Tomato Beef Noodle Soup
(S)15.95    (L)18.25
To our original braised beef broth, we add rich-flavoured tomato. The sweet and sour taste of tomato is a surprising match for our beef soup base! Rich in lycopene, it helps fight aging and prevent cancer. Your best healthy choice!